Posted under:
Root Canal
Posted on: October 7, 2022
Celebrate Dental Hygiene Month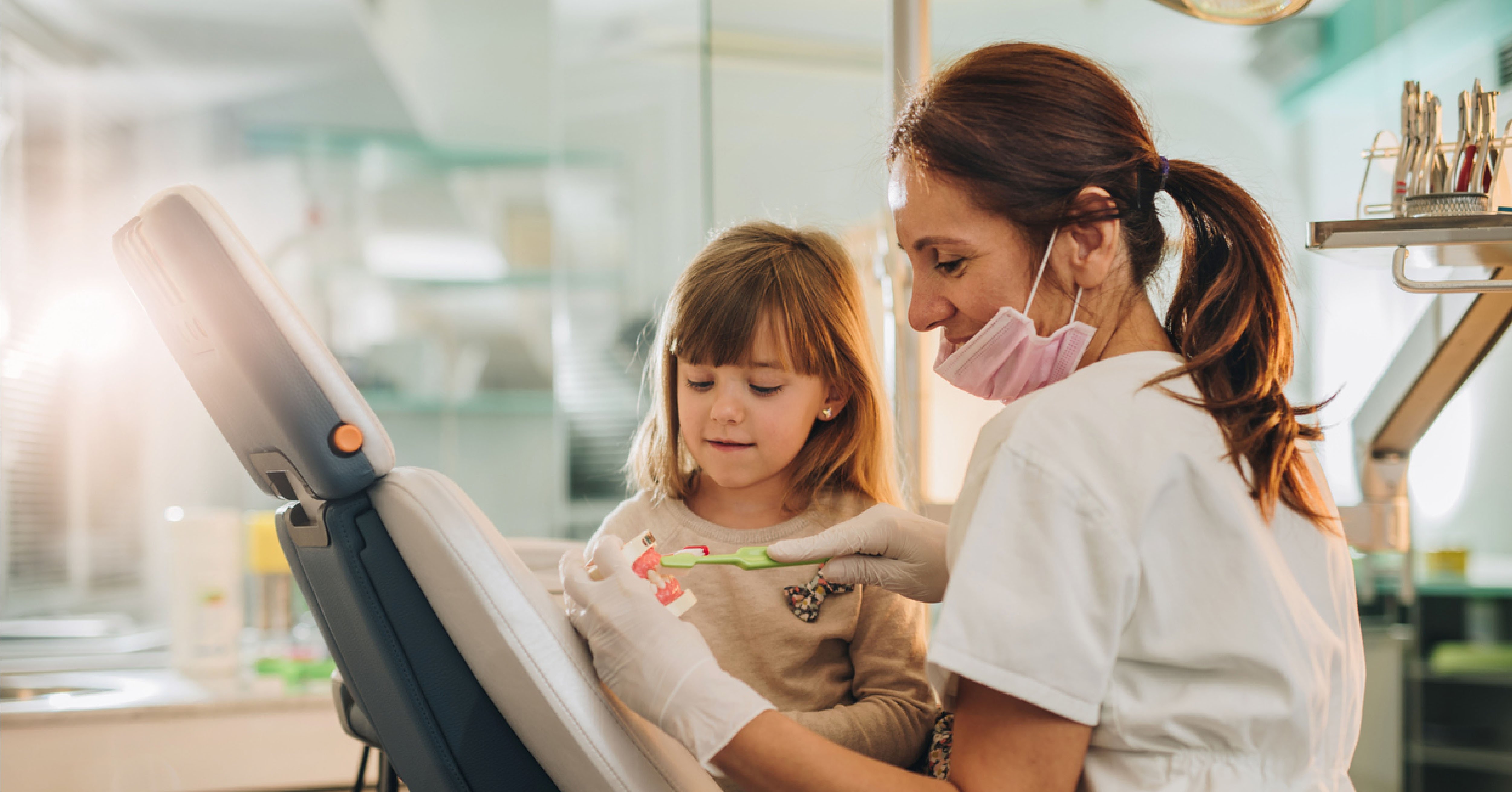 October is Dental Hygiene Month and our dental office in Midland Park is excited about it. It's the perfect time of year to celebrate, especially with Halloween coming up. Your little ghosts and goblins will be getting candy and eating it. And, if you're like most parents, you will be, too. Good dental hygiene is an excellent habit for children to learn as early as possible. They will have healthier teeth for life, as they are likely to continue to take excellent care of their teeth as adults. We have tips below for your child's dental hygiene routine. Our dental hygienist can also provide demonstrations and let you know if your child is missing cleaning any areas of their mouth.
What Is a Dental Hygienist?
A dental hygienist is a trained professional licensed by the state. Ours are an integral part of our team. Teeth cleanings are essential for kids to help prevent decay and the resulting cavities that can cause your child pain. Even if your child still has most of their baby teeth, it's essential to keep them healthy.
Dental hygienists do more than just clean teeth. They are educators for parents and kids who are looking for dental hygiene tips. In some offices, they process x-rays, too. Hygienists also offer cavity prevention treatments, like sealants and fluoride treatments. Your child's dental hygienist will also encourage them not to eat too many sweets and offer healthy alternative snacks.
Don't forget to schedule a teeth cleaning for your child when you come in to see our dentist in Midland Park.
How Can I Celebrate Dental Hygiene Month?
You can instill the best practices listed below, so your child develops great oral hygiene habits. Also, you can practice them yourself and set a good example for your child. Kids are not the only ones who can get cavities.
Try giving out cool stickers, tiny notebooks, or glowsticks as treats for the tricker-treaters instead of candy. There are plenty of options available that are less expensive than candy. Sealed packs of sugar-free gum also work well. Your neighbors will thank you for them. In addition, you won't have to deal with left over candy at your house that your kids will want to eat.
Toothbrushing
Getting kids to brush is rarely easy. You can start by getting them the right equipment. Toothbrushes for kids came in fun colors with handles that are easy for small hands to grip. Always buy a toothbrush with soft bristles. In addition, your child will need a new toothbrush every three months, so they have a germ-free brush that cleans well. Teach your child to rinse their toothbrush when they are done and store it upright so it dries well in between uses.
Use an age appropriate toothpaste. It will have less fluoride than one meant for adults. Beware of ones with flavors like bubblegum or anything else that your child likes. Young kids are tempted to swallow them. If you're unsure what to buy, look from products that feature the American Dental Association's Seal of Acceptance. This proves the toothbrush and toothpaste are safe and effective.
Follow these steps for children's toothbrushing:
1. Take a toothbrush a put toothpaste on it about the size of a pea.
2. Hold the toothbrush at an angle and use gentle circular motions to clean the teeth.
3. Brush the front, back, and chewing surface of each tooth.
4. You can brush your tongue, too.
5. Spit out the toothpaste, but don't rinse.
Your child, and you, too, should brush every morning and again before going to bed. Don't let your kids have any of the Halloween candy after brushing at night, or the sugar will sit their teeth all night long.
If your child is at least three years old, you can use an electric toothbrush to brush their teeth. Ones made specifically for children are colorful, have easy to hold handles, and small heads. When your child is ready, supervise them until they can use the toothbrush themselves.
Flossing
When two of your kid's teeth touch, it's time to start flossing. Your dentist or dental hygienist can show you how to do this, and how to make it fun for your child. You can use string floss, floss picks or a water flosser meant for ages six and above. You should always supervise children who are flossing until you feel confident that they can, and will, do it themselves. Many kids find electric toothbrushes exciting. Some have two-minute times, while others light up. They also work better in many cases than manual toothbrushes.
Should Children Use Mouthwash?
If your child is over age six, they can safely use mouthwashes meant for children according to the American Dental Association. Keep the mouthwash away from where your child can reach them until you're sure they can use them safely. A six-year-old child may think it's a good tasting drink in a brightly colored bottle. Mouthwash can give your child extra fluoride protection. Ask your dentist or dental hygienist if you have any concerns about your child needing mouthwash.
Celebrate Dental Hygiene Month by following these best practices:
How Important Are Dental Checkups for Kids?
Your child gets regular health checkups from their pediatrician. Their dental health is just as important, so they need regular dental checkups as well. Your child should start at age one; this helps them to get used to the idea of seeing a dentist. Even if their mouth only have baby teeth, these teeth are very important. You want them to stay healthy as they hold the place for adult teeth to come in. Remember, as soon as your child has a tooth, they can get a cavity.
Make sure your child sees the dental hygienist too, one they are old enough. Usually by age two or thee, kids are ready. The American Dental Association recommends kids get a professional teeth cleaning every six months, just like adults. Dental hygienists are experts at helping to prevent cavities in children. They are also excellent resources for tips and tricks to make caring for your child's teeth less stressful on you. There are plenty of ways to make it a fun time for them, especially if you join them. Still, no matter how well you brush and floss your children's teeth, there are spots that are hard to reach.
Call us today to make an appointment with our dentist in Midland Park today! Let the celebration begin.