Posted under:
Root Canal
Posted on: December 28, 2020
Invisalign: Frequently Asked Questions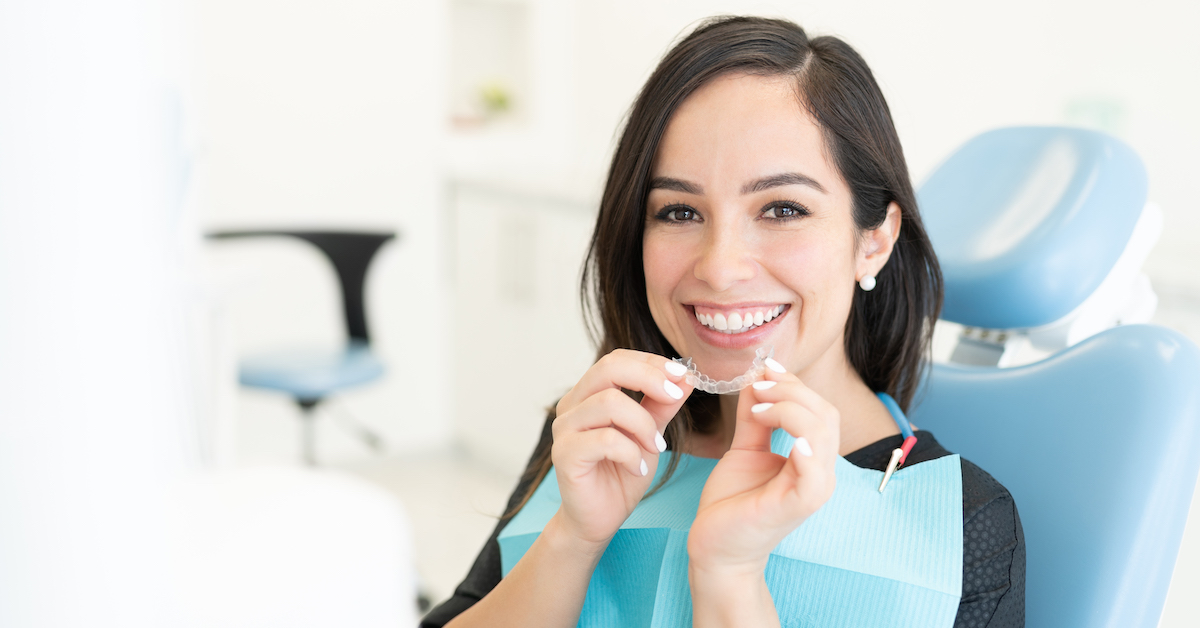 If your misaligned or crooked teeth keep you from smiling, then Invisalign may provide a solution that will make you want to smile at everyone. The Invisalign system of clear aligner trays are virtually invisible while they're realigning your teeth, so no one will know that you're wearing them. The trays are discreet, comfortable, and affordable, and they're perfect for older teens and adults who want a beautiful smile without the discomfort and negative aesthetics of traditional wire-and-bracket braces.
What's Meant By Invisalign?
The Invisalign system has been providing straight, beautiful smiles for almost three decades, and it's available throughout the world. Originally conceived by several university students and alumni, the system uses aligner trays that are similar to whitening trays, and the aligner trays gently move misaligned teeth into the proper position.
Since they're custom-fit to the contours of your teeth and gums, the aligner trays are very comfortable. They're made of a special plastic called SmartTrack, which is free of BPA, BPS, latex, and gluten. SmartTrack has been approved by the FDA for use in the aligner trays, so you can be assured that they're safe.
Who's a Good Candidate for Invisalign?
Most adults and older teenagers are good candidates for the Invisalign trays. However, those who have severe malocclusion or other more complex orthodontic issues may require a more traditional type of treatment. When you come to our office for your evaluation, your Invisalign orthodontist will advise you if you're a good candidate for Invisalign. If not, they'll recommend a good alternative that will provide you with the beautiful smile you want.
If you're considering the Invisalign system for your child or yourself, then the answers to the following questions may help you to decide.
Have all your permanent teeth fully erupted? Usually, the Invisalign system isn't appropriate for young children or younger teens because their permanent teeth may not have fully erupted, making it difficult to fabricate a set of aligner trays. Also, some individuals may lack the manual dexterity necessary to remove and replace the trays as needed.
Will you wear your aligner trays for the required time? Simply stated, the trays won't work if you don't wear them. For the procedure to be effective, the trays must be worn at least 20 to 22 hours each day. Those who aren't diligent about wearing their trays for the allotted time each day would probably be better suited to a more traditional device.
Is it important for the trays to be invisible? If the appearance of wire-and-bracket braces is immaterial to you, then you might prefer another method for straightening your teeth. However, if the invisibility aspect is important to you and you like the flexibility of being able to remove the trays for important functions, then the aligner trays may be an excellent solution for you.
After examining your teeth and gums, your Invisalign dentist or orthodontist will recommend the best type of procedure that will enable you to achieve your goals.
What Will My Invisalign Procedure Be Like?
Each patient is unique, so no two patients will experience the same process for getting Invisalign. Those who require additional dental or orthodontic procedures will take longer than the time needed for the Invisalign system alone. However, you can expect the following approximate procedure:
When you come in for your evaluation, your Invisalign orthodontist or dentist will evaluate your teeth and gums to ensure that the Invisalign system is your best option.
If you and your orthodontist agree to proceed with the Invisalign trays, then we'll make a mold of your teeth, and we'll use the mold to fabricate your aligner trays.
Every week or every other week, you'll receive new trays, and you'll need to make a progress check appointment about every four to six weeks. By the time of your first progress check, you should begin to notice an improvement in the alignment of your teeth.
Usually, the Invisalign treatment lasts between 12 and 18 months, but it can take longer if you need additional dental work, and the overall time will vary by patient. No two patients are identical, so your treatment may take slightly less time or slightly more time. The degree of correction you need, your dedication to the program, and your body's physiological response will all be a factor in the duration of your procedure.
Will Invisalign Change My Daily Life?
Invisalign isn't an invasive procedure, and it won't drastically alter your lifestyle. However, some lifestyle habits may adversely affect your trays, so you should make adjustments as necessary, at least for the duration of the program. For example:
Whether you smoke, vape, dip, or chew, you'll need to discontinue the use of tobacco products while you're wearing the aligner trays. Nicotine discolors your trays just as it does your teeth. Since you need to quit for a year or so, it might be a good time to quit altogether.
Don't chew gum while you're wearing your aligner trays. If you absolutely must have a stick of gum, then remove the trays..
Whenever you eat or drink anything, be sure to remove your trays. Plain water is the only exception. Hot beverages will warp your aligner trays, and colored beverages will stain your trays just like they discolor your teeth.
Be sure to brush and floss before you reinsert your trays so that food particles don't become trapped underneath them. If you can, it's a good practice to rinse with an antibacterial mouthwash before you reinsert your trays. If food particles remain trapped underneath them, then decay and cavities can begin, which will extend your treatment time.
When you install a new set of aligner trays, you may experience minor discomfort that should disappear after a day or so. New trays will apply a slightly different pressure than the old ones to keep your teeth moving into proper alignment. This can cause minor discomfort but is no cause for alarm.
What Happens When the Treatment Is Complete?
When your treatment concludes, your Invisalign professional will probably recommend that you wear a retainer at night for a while, usually a year or less. The retainer keeps your teeth from reverting to the previous alignment, so it's important to wear the retainer as you're directed.
Where Can I Find an Invisalign Dentist?
Invisalign requires that all dental and orthodontic professionals be specially trained and certified in their procedures, so any dental professional who has an Invisalign certification can provide you with the system. Those who aren't Invisalign-certified may be able to provide you with an imitation product, but it won't be Invisalign, which is considered to be the best.
If you're interested in getting Invisalign, then call Pediatric Dentistry & Orthodontics of Midland Park at (201) 972-6846 and schedule a consultation with one of our Invisalign professionals. We can help you achieve the straight, even teeth you've always wanted, so call us today. We look forward to working with you.