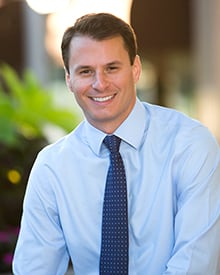 Dr. Jacy Papasikos earned his Bachelor of Arts degree from the University of North Carolina at Chapel Hill and Ivy-league dental training at the University of Pennsylvania, where he received a Doctorate of Dental Medicine, graduating top of his class.
He then went on to Temple University for his orthodontic residency, where he obtained an additional two years of specialty training in orthodontics in addition to a Master's Degree in Oral Biology.
Dr. Papasikos conducted extensive research at Temple on facial esthetics, using advanced three-dimensional technology to better understand how orthodontic treatment can affect facial beauty.
Dr. Papasikos is well trained in all aspects of Orthodontics. His special interest includes cosmetic alternatives to traditional braces such as Invisalign®.
Dr. Papasikos was a full-time athlete in high-school and college, playing soccer and lacrosse. He is currently an assistant coach for a middle school lacrosse team. His wife is also in the dental field and works as a dental hygienist. Besides both being passionate about teeth, they love outdoor activities, going to the shore, trying new restaurants, and spending time with their dog.